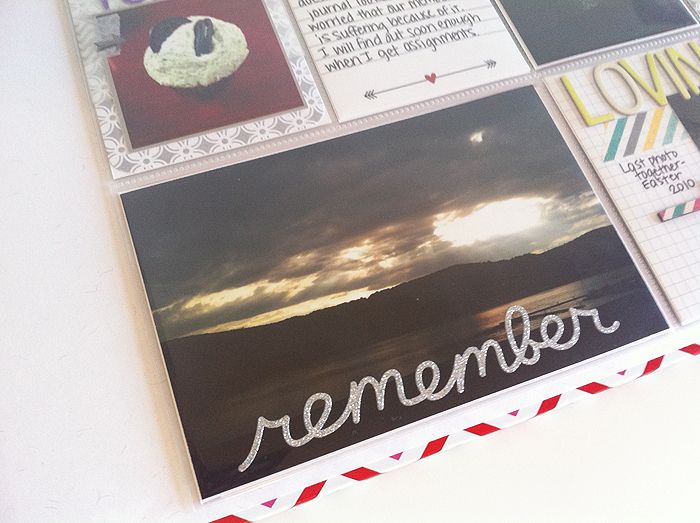 Week 28 was a difficult week for me to complete.
This was the week I found out my grandpa passed away. He lived in Arizona so I hadn't seen him in a couple of years, but at one point, when I lived there too, I saw him and my grandma every week + they were a huge part of my life.
When my grandma passed away in 2011, I had not yet started project life and was instead creating a mini album
where I included a few pages for her
.
At the time, that seemed appropriate.
Project life though, that's different. It felt weird putting photos + words about such a serious + sad topic next to my story about my journal open house + my instagram of a cupcake.
But those were parts of my life too, and I didn't want to leave them out.
Thankfully, I saw a gorgeous sunset over the Hudson while on the train one evening on my way home from work so I snapped a few photos with my iPhone.
I decided to use those photos as a "buffer" zone between the everyday life stories + photos and the ones about my grandpa.
This was also the first time I included an older photo in my project life, but I hadn't seen my grandpa in a few years [and we didn't take photos that often even when I did see him] + it felt important to include one. Also, more recent photos I had seen of him he looked sickly, and I wanted a photo that depicted the cheerful old man I remember him as, so I went with this one of me, him and my cousin Becca on Easter 2010.
So here is how the full page turned out:
This week:
+ Went back to the basics with a few cards from my
clementine core kit
.
+ Lots of white backgrounds, I've found that I don't like spreads as much that don't use enough white.
+ Tons of alphas, basically my favorite embellishment, including
ombre thickers
from studio calico's sundrifter line. One of my favorite sets yet, I love them so much I have them in aqua also.
+ Free printable journaling card using for my journal open house card from
Miss Tiina
.
+ To add dimension to the card about my grandpa, I covered a wood arrow with washi tape, so simple!
Have you had to include any truly serious or sad events in your project life? How have you dealt with it?