Week 27 was the 4th of July, and not a lot else happened that week. This was our first time spending the 4th of July in New York, but we decided to stay in Poughkeepsie and see the fireworks over the Hudson River rather than go down to the city where it would be overcrowded. It was definitely a good show! We sat on the
Walkway over the Hudson
which is the longest footbridge in the world, had a picnic + had front row seats to fireworks.
Here is the full spread: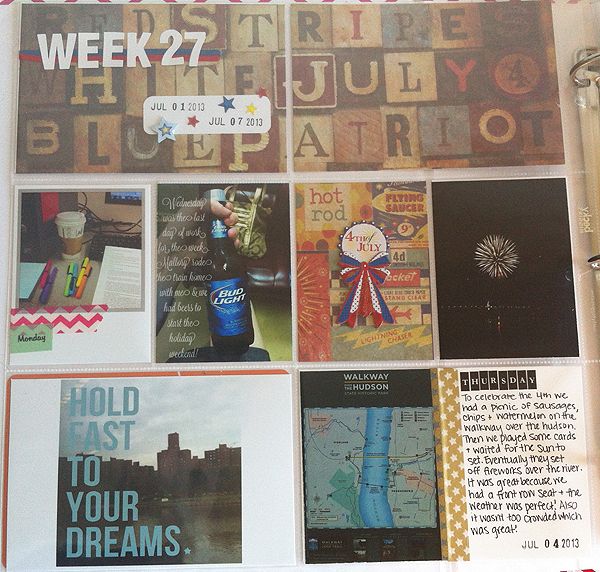 This week:
+ Lots of Tim Holtz
Seasonal Paper Stash
for the vintage looking 4th of July papers. This same paper pad played a prominent role in last year's
December Daily
.
+ Used
rhonna design
's app again to edit the photo on the bottom left.
+ Printed a large photo to cover most of the second half of the spread, I love the look + can't believe I haven't done a photo that size before! The sunset over the Hudson as we were waiting for the fireworks was just so gorgeous, I had to print it big!
+ Lots of simple journaling + washi tape embellishment causing the spread to come together really quickly.